Programs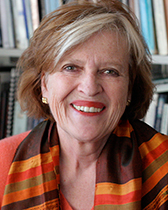 View the YouTube recording here.
Van Gogh & Urban Modernity
Guest Speaker: Hollis Clayson, Professor Emerita of Art History, Northwestern University
We often think of Van Gogh's art in terms of intense emotion, the importance of rural life, and coloristic bravura and intensity. That is not wrong, but it downplays an important component of his interests: technologized modernity. The lecture will concentrate upon his imagery of industry, railroads, and artificial illumination as seen in works he completed in Paris and Arles, before the arrival of Gauguin.
This lecture is open to the public at no cost, however advanced registration is required as space is limited, to encourage physical distancing. To secure your place, please email JulietArtMuseum@theclaycenter.org with the number of people in your party attending. Mask wearing is also required for all attendees. The Juliet Art Museum will remain open from 5:00-6:00 PM to view the Van Gogh For All exhibition prior to the lecture.
About the Lecturer: Hollis Clayson is a historian of modern art who specializes in 19th-century Europe, especially France, and transatlantic exchanges between France and the U.S. Her first book, Painted Love: Prostitution in French Art of the Impressionist Era, appeared in 1991 (Yale U. Press; reprinted by the Getty, 2003 and Getty Virtual Library, 2014). A co-edited thematic study of painting in the Western tradition, Understanding Paintings: Themes in Art Explored and Explained, came out in 2000, and has been translated into six other languages (Watson-Guptill Publications). Paris in Despair: Art and Everyday Life Under Siege (1870-71) was published in 2002 (U. of Chicago Press, paperback 2005). In 2013, she curated the exhibition ELECTRIC PARIS at the Clark Art Institute in Williamstown, MA. An expanded version of the exhibition was at the Bruce Museum of Art in Greenwich, CT during the spring and summer of 2016. Her co-edited book (with André Dombrowski), Is Paris Still the Capital of the Nineteenth Century? Essays on Art and Modernity, 1850-1900, appeared in 2016 (Routledge). Her new book, Illuminated Paris: Essays on Art and Lighting in the Belle Époque (U. of Chicago Press), appeared in 2019. Her current project is The Inescapability of the Eiffel Tower.  For more information click here.

Sunday, January 23, 2022
2:00 PM
WV Youth Symphony Performance Quartet Presents Romantic Period Music from Van Gogh's Era
The West Virginia Youth Symphony Performance Quartet will perform music from Van Gogh's life in the Juliet Art Museum as a musical accompaniment to the current Van Gogh For All exhibition.  Access to this performance is included with admission to the Clay Center, $9 for adults and $7.50 for students and seniors.  Members and children two and under are free. 
About the Romantic Period of Music:
The Romantic period started around 1830 and ended around 1900, as compositions became increasingly expressive and inventive. Expansive symphonies, virtuosic piano music, dramatic operas, and passionate songs took inspiration from art and literature.
About the West Virginia Youth Symphony:
The West Virginia Youth Symphony originated in 1949 when the Charleston Woman's Club organized the Kanawha Valley Youth Orchestra. It has operated continuously since then, becoming incorporated in 1968 as the Charleston Symphony Youth Orchestra and changing its name in 1991 to the West Virginia Youth Symphony. While the name has changed, the goal has remained the same – to provide opportunities for young people to perform in an orchestra setting.
Each year, about 125 young musicians participate, making it both the largest and the oldest youth orchestra in the state. Students come from as far away as Ohio to rehearse weekly in Charleston. Ages range from 7 to 20, and students from 36 public and private schools, plus college and home-school, are making music together each week.  For more information about the WVYS visit their website here. 
February 10, 2022
6:00PM
Loving Vincent Film Screening
Loving Vincent film screening. Written and directed by Dorota Kobiela and Hugh Welchman, this 2017 experimental animated film gives viewers a glimpse into Van Gogh's last days and the circumstances of his death. The Juliet Art Museum will remain open from 5-6 so that you can view the exhibitions before the film.
Van Gogh For All is presented with support from Belle Chemical, Daywood Foundation, The Elliot Family Foundation, Charles & Mary Fayne Glotfelty Foundation, Herscher Foundation, and Bernard H. & Blanche E. Jacobson Foundation, Fund for the Arts (The Clay Center salutes the following major donors to Fund for the Arts whose annual gifts of $10,000 or more help keep all the arts thriving in our area including City of Charleston, Cecil I. Walker Charitable Foundation, Daywood Foundation, Spilman, Thomas & Battle PLLC).  This program is presented with financial assistance from the West Virginia Department of Arts, Culture, and History and the National Endowment for the Arts, with approval from the West Virginia Commission on the Arts.